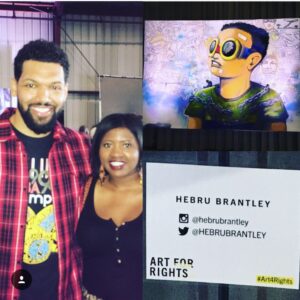 This past weekend I ventured to New Orleans and had the pleasure of attending Amnesty International USA's street art show. Chicago's very own Hebru Brantley was displaying one of his pieces there. I love Chicago always represents everywhere!
First let me give you a little background of Amnesty International. Amnesty International is a non-governmental organization focused on human rights with over 7 million members and supporters around the world. The organization mission is to research and call to action ways to prevent abuses of human rights. The group also fights for justice of injustices.
December 12th I was in New Orleans and attended the #artsforrights Amnesty International group exhibit. The exhibit was held at a warehouse in the Bywater area. It spoke true volume that this exhibit was not held is some glitzy glamourous place. I loved the fact they let the art/artist do the talking and nothing else was a distraction. The graffiti style paintings depicted the sorrow of prisoners and other victims facing injustice throughout the world.
Singer Usher Raymond was in attendance. He was dressed in all black and did a great job walking through the warehouse and stopping by every painting to speak with the artists. At the end he gave a speech on the injustices faced all over. They also had a projector there that displayed names and faces of those that have been mistreated by those in power. The exhibit was very thought provoking and definitely a highlight of my trip in NOLA. To learn more about Amnesty International visit the website http://write.amnestyusa.org/artforrights

Copyright secured by Digiprove © 2015-2017