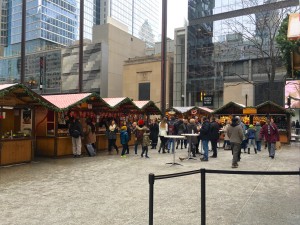 Christkindlmarket
Where: Daley Plaza – 50 W Washington Street
When: November 20th – December 24th
Time: Sunday – Thursday 11:00am – 8pm
Time: Friday – Saturday 11:00am – 9pm
Christkindlmarket Chicago is open!!! It's the 20th annual market and it goes until December 24th. The Market is inspired by a German and European tradition dating back to 1545. This is Chicago's largest open-air Christmas festival.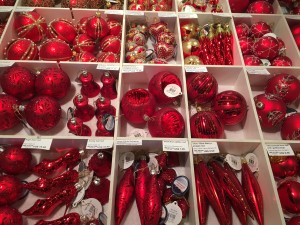 The weather is normally chilly, but that doesn't stop people from browsing all the outdoor vendors located in the heart of Daley Plaza. Here is my must do list:
– Browse the beautifully decorated ornaments spread throughout the market. Their pricey, but their handmade and absolutely stunning.
– Eat Eat Eat!!! Tons of food vendors! Most are selling the same items, so just go to the shortest line. I can't seem to tear myself away from getting a bratwurst each time, but another popular item is the potato pancakes.
– Looking for dessert? There's so much to choose from, but I always make sure to stop by the nut vendor and get the cinnamon sugar pecans. They have so many nuts to choose from in so many flavors. Other notable mentions are the pretzel stand (various flavors) and don't miss out on the hot chocolate! If you want a souvenir get the hot chocolate or apple cider in a boot shape cup for an extra $7.00.
For more information check out the website:
http://www.christkindlmarket.com/
Note: There are two Markets. My article is referencing the market in Chicago held at Daley Plaza. I have not been to the Christkindlmarket located in Oak Brook, IL.
Side note: Only thing missing at ChristKindlmarket this year is the beautifully donated Christmas tree. The tree has left the plaza and has relocated to Millennium Park (not far away). The annul Chicago tree lighting ceremony will be held on Tuesday, November 24th at Millennium Park at 5:30pm.
Tree Lighting Ceremony Information: http://www.cityofchicago.org/city/en/depts/dca/supp_info/tree0.html

Copyright secured by Digiprove © 2015