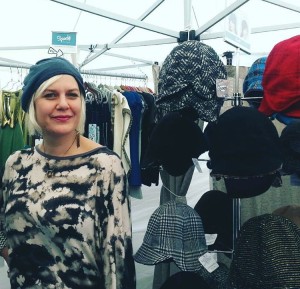 The thing I love about fashion is it's the easiest way to express who you are. I take the quote "to wear your heart on your sleeve" literally. How you dress is an extension of your being. If you like unique fashion pieces by local designers than look no further than Squasht Boutique! The owner, Lesley Timpe, creates and designs hand crafted clothing and accessories. The boutique features many independent brands and handmade seasonal apparel by local designers.
I stumbled upon Lesley's work at a street fest and fell in love with the Squasht reversible slouch hats. Winter in Chicago is rough, but there's no need to not be stylish. The hats had the warmth and playful sophistication you need to make it through a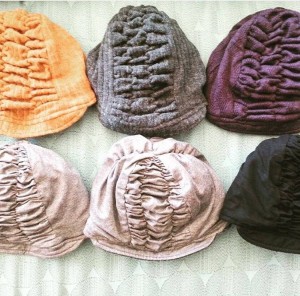 Chicago winter. After loving the style the material sold me. The high quality sweater knit fabric would not do damage to my hair like normal wool hats, but still provides the warmth you need during snowmageddon in Chicago. 🙂 With 10 different colors there's a flattering fit/style for everyone.
My mind was made up….I had to go check out the actual Boutique and find out more about Lesley. Lesley didn't want to run a retail store initially, but fashion has always been in her blood. In high school she was making clothing for friends and even created her own prom dress! She studied abroad in Spain and finished Fashion Design School in 2003. From there she worked out of a workshop space in Pilsen for 2 years and was selling her garments/accessories to over 30 boutiques. Since 2010 she has owned and operated Squasht Boutique in Ukrainian Village. As a St. Louis native she wasn't sure which location to set up shop, but she loved the affordability of the area and the neighboring businesses.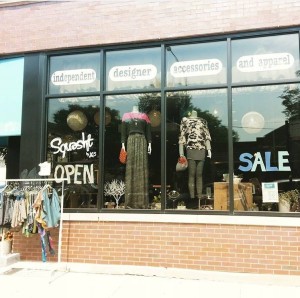 Lesley had a business mind to know Chicago would be a great place to create and sell her fashion pieces. She teamed up with other local designers that are displayed in her store from Seattle and St. Louis. Lesley chooses the local designers she works with mostly through connections. A big source pool is from the festivals she displays at and trunk shows. Staying in tune with the community and other local designers is important to her.
I would describe the boutique as vintage with a modern flair. The items sold are women's hats, dresses, pants, tops, jewelry, purses and scarfs. The clothing/accessories are very unique, detail focused, and comfortable to wear for all body types. What's even better is how affordable the apparel is for a fashionista on a budget. Most of the items fall below $150.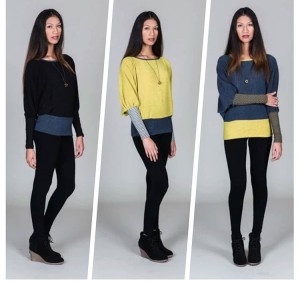 Don't just take my word on how great her pieces are. Squasht boutique was featured on WCIU, Lesley was named best local clothing designer by Chicago Reader for not one, but two years in a row (2013 & 2014), and she has also been featured in many prominent magazines. It's safe to say she runs a successful boutique being a graduate of Goldman Sachs -10000 small business Alum. After writing a 35 page business plan paper she should be! With all of these awards and accomplishments she is the sweetest person. She took time out of her busy schedule to give me a tour and help me gain more knowledge about her business and garments. When you enter her store it's like having your own personal stylist. She has a keen eye on fashion and can help you put together outfits for whatever occasion you may need.
Best of all for those of us that love online shopping you can shop directly from her site. http://squashtboutique.com/
This month I'm going to tell you why Lesley Timpe of Squasht Boutique is a Chicagoan you should know. Her line is unique, handmade, affordable, high quality, and best of all it's made and designed locally. Truly the spirit of Chicago is in Lesley and vibrates throughout Squasht Boutique.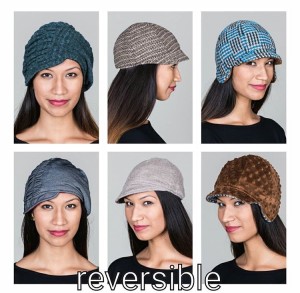 GIVEWAY ALERT: Chiataglance and Squasht Boutique are teaming up to give one lucky person a chance to win a Squasht reversible hat featured in the article!!! The hat comes in 3 styles (Bella, Derby, and Slouch). To find out how to enter visit chiataglance on facebook www.facebook.com/chiataglance or instagram @chiataglance.
Good Luck! Winner will be announced Wednesday, November 4th. Hat can be shipped anywhere in the USA. Multiple colors to choose from!
Make sure to check out Squasht Boutique and online site at:
Squasht Boutique
2556 W. Chicago Avenue
Squashtboutique.com
To stay up to date on sales and promotions follow Squasht Boutique on social media:
Facebook www.facebook.com/squashtboutique
Instagram @Squasht
Twitter @Squashtboutique
Pinterest Squasht Boutique
Google Plus Squasht Boutique

Copyright secured by Digiprove © 2015