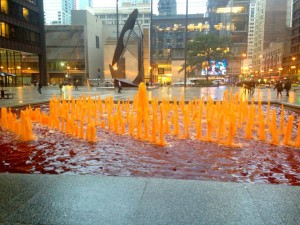 Halloween in Chicago
Where: Everywhere
Time: ALL Day, ALL Night, ALL Weekend
Event: Halloween
Great for: Adults and Children
One thing I love about Chicago is we know how to party! No matter how small or wide the holiday is observed, you'll be sure to find some bar/establishment in Chicago throwing a celebration party with discount specials and themed events. I remember when my friend moved to New York from Chicago. She called me during St. Patty's day and she had told me she totally forgot it was. If you live in Chicago there is no way you can forget St. Patty's day with all the parades, dyeing the river green, and for those of us still youthful enough a visit to Wrigleyville for bar crawls. Well the same goes for Halloween. What makes Chicago different?

"Like every holiday in Chicago we take it over the top. It's just another reason/excuse to binge drink. The Saturday before Halloween is usually the unofficial Halloween celebration day. But this year Halloween fell on a weekend. It's going to be crazy!!" Tarneka, M. – Hyde Park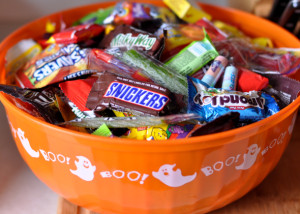 WE Chicagoans take Halloween seriously. There's costume preparation, party agenda's (of course you're celebrating the whole weekend not just one day), and not to mention all the fall activities in between. Besides my hectic birthday month I think this is the most "outgoing" holiday for me. As a 31 year old woman you would think my Halloween party days would be slowing down…but in Chicago that's not the case. Single people, couples, children….we all celebrate. It's a great reason to dress up, become a different character, and pig out on candy. Just make sure you get the right kind of candy. Before you party the night away you might be on candy door duty for the trick or treaters. I had to ask what is some of the best/worst candy you received as a kid on Halloween?
"Best – Now & Laters, All day. Worst – Candy Corn, Tootsie Rolls & those bootleg strawberry rapper joints" Liana A. – Bronzeville
"Best – Reese Cups. Worst – Apples" Maurice F. Goldcoast
"Worst were peanut butter kisses and now I love them" Jenn R. – Ravenswood
"My favorite candy is snickers. I really hated candy corn and apples appearing in my trick or treat bag" Mike B. – South Side
"The best candy then and now is snickers. The worst are those stupid candy corns" Tarneka M. – Hyde Park
"Favorite Candy Corn and Worst Black Licorice" Crystal A. – South Loop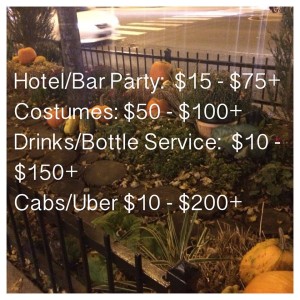 I think what you do for Halloween can be reflected on how old you are, your relationship status, and your tolerance for inebriated human beings (same goes for New Year's Eve). In my early and mid-twenties it was all about going out on the town. I would frequent many bars/hotels. It adds up when parties are between $30 to $40 a piece. Don't forget those Uber surcharges can be ridiculous and don't even think about trying to hail a cab. They are pretty much non existent Halloween night.
Sometimes you have to get a new costume because with social media you're not about to get caught in the same costume twice. This is when having friends the same size is a major plus. I remember trading costumes once in a while, but I prefer to have a brand spanking new one. Where do you get your costumes from?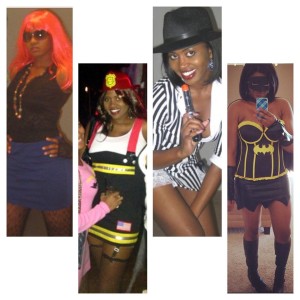 "I got my superman costume at Party City. If you're a dude that wants to be something military related then a military supply store. All depends." Quentin S – Hyde Park
"N/A. Adults keep that shit covered up" Jenn R. – Ravenswood
"I love going to Lovers Lane for sexy costumes. Also lately I've just been shopping my own closet to save money." Tavi J – Goldcoast
"3wishes.com" – Liana A., Bronzeville"
"Amazon.com" – Maurice F. – Goldcoast
"Head to your nearest goodwill. They even have suggestion online on how to create a costume at the goodwill. http://www.amazinggoodwill.com/halloween/costume-ideas#.VhguURFViko" Tarneka M – Hyde Park
In my "Mature 30's" I still like dressing up, but I like to take the casual/cheap Halloween approach that will get me home at a reasonable hour. Normally my costumes are pretty risqué 🙂 I like the mixture I see when I'm out. A lot of bars hold costume contests with cash prizes. I asked some people what costumes they prefer:
"Seeing people trick or treat with a bootleg costume. Like with a Jordan Jersey and Jordans on claiming there Jordan for Halloween. But I guess that happens everywhere!" Mike B. – Southside
"Sexy Sexy Sexy!" Liana A – Bronzeville
"I don't dress up anymore, but I like current event costumes. Something recent in the news." Tomisi K – Former Chicagoan gone Boston
"I usually dress up in whatever's comfortable. No need for heels on Halloween." Tarneka M – Hyde Park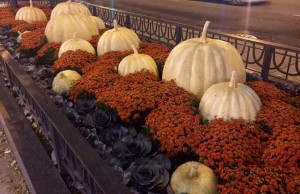 My advice is this is the one holiday were you don't have to make excuses so go as whatever you want to. I like to dress super sexy for Halloween. I am the girl that's the naughty nurse, sexy firefighter, smooth criminal, etc….the list goes on and on. However, as I get older I think it's funny to dress as actual characters. I have one in mind for this year and will keep you posted. As for the men….what I see if you want to appeal to the women are the less clothes the better. So if you're physically fit…show it off! Otherwise funny costumes work as well. 🙂
When in doubt just google. There are soooo many Halloween pop up shops throughout the Chicago neighborhoods. TIP: If you're 100% positive you know what you want to be the following year wait until the day after Halloween and most places sell the costumes 50% off or more. Only con is by next year you may decide to be something else.
Whether you're a Chicago Halloween Newbie or a seasoned veteran (like myself) you're always trying to look for the best Halloween party. For those in there 20's just follow the Redeye and social media and you'll easily find where you want to be. As you get older your more pensive with your plans and want every moment to count.
Suggestions for where you should go for Halloween. Check out these sites:
– Redeye.com
– Metromix.com
– Chiataglance.com/events page (I'm compiling the parties I see on my site)
Halloween in Chicago is awesome! WEAR what you want, BE what you want, DO what you want, and have FUN with it.
Happy Halloween!
Tavi J.


Copyright secured by Digiprove © 2015