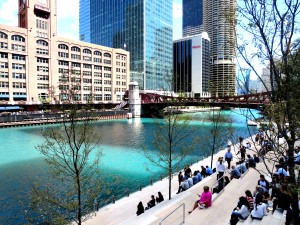 Location: Along the South Bank of the Main Branch of the Chicago River. Begins at Lake Shore Drive and continues to Franklin Street. The portion between State Street and LaSalle is open!
Description: Six Blocks of continuous walkway and recreational area connecting the lakefront to downtown.
When you hear people say "There's nothing like Chicago summers" take those words to heart. The weather is perfect, constant activities are occurring, and have you been to one of the rooftop restaurants? Well now add another FREE attraction to the list—-The Chicago Riverwalk. The River walk provides six continuous blocks of uninterrupted walkway with dining, education, and vendors. Each block of the River walk will take on its own identity and purpose.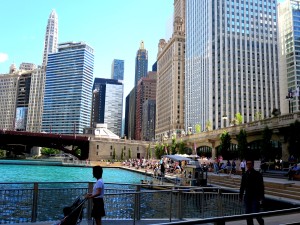 The Marina (from State to Dearborn) – Restaurant retail space and public seating
The Cove (from Dearborn to Clark) – Kayak rental and allow watercraft to dock
The River Theater (from Clark to LaSalle) – Area for vertical access of Upper wacker and the Riverwalk level
The Swimming Hole (from Lasalle to Wells) – great area for recreation
The Jetty (from Wells to Franklin) – learning about the ecology of the river
The Boardwalk (from Franklin to Lake) – floating gardens and landscape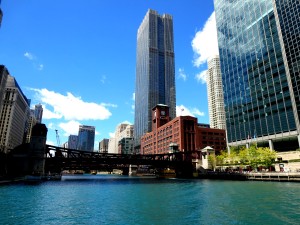 I've been on the weekends and during the week and it's a relaxing spot. It's such a nice place to come during lunch time to enjoy City Winery restaurant or brown bag it and eat on the numerous benches/stairs. One thing that you must take advantage of is the free music series. Concerts are every weekday (except for Wednesdays) from 5:30pm to 7:30pm. On the weekend the concerts are 1:00pm to 3:00pm.
Take advantage of all the river walk has to offer from now until November 1st. The entire path will be completed by 2016.
See you on the Riverwalk!
Tavi J.

Copyright secured by Digiprove © 2015