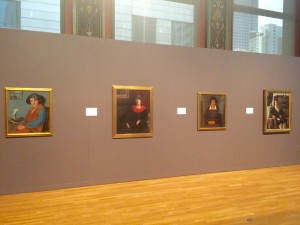 Event: Archibald Motley: Jazz Age Modernist
78 E. Washington, Chicago, IL 60606
When: March 7th – August 31st
Time: Monday – Thursday 9am to 7pm
Friday and Saturday 9am to 6pm
Sunday 10am to 6pm
All Ages
Great for: Educational, Cultural, Family, Date, Friends
Description: The Chicago Cultural center is a long standing historical landmark. The Center showcases various artists. Check the website for upcoming exhibits. http://www.cityofchicago.org/city/en/depts/dca/supp_info/chicago_culturalcenterschedule.html
The Chicago Cultural Center is one of my favorite attractions in Chicago. Let me start by saying it's FREE! You'll come to learn there are so many free things to do in Chicago and most are quality events. Take my Sunday visit to the cultural center for example. My friend and I decided after a weekend of partying it was time to get a little education. We paid a visit to the Chicago Cultural museum to explore the Archibald Motley exhibit.
The Archibald Motley exhibit is running through the end of August. I love how the exhibits are featured at the Cultural Center. There is a hallway where you first get to understand the artist by different quotes posted on the walls and then a brief biography. After viewing the information you enter into a large adjourning room with the featured art.
Archibald is a 20th Century African American artist. His desire was to "express the American Negro honestly and sincerely." What I love about art is the perspective of the viewer. Everyone has a different take on the same art piece. No opinion is either right or wrong. My honest opinion regarding this particular exhibit is I did enjoy the vivid colors and detailed work. However, I was not a fan of how Archibald Motley portrayed the African American subjects in his work. The African American features were over exaggerated and other culture features were portrayed normally. I think it was done on purpose, but not sure of the intention. It was interesting that most of his art seemed to revolve around his family unit or people he knew. It felt like you were walking through a biography of his life as you browsed the walls of art.
Want to gain some enlightenment….walk through the museum again with me:
REWIND:
– Work in the city? Looking for a cheap date spot? Outing with your family or loved ones? The Chicago Cultural Center is a go to place in each situation. Depending on your level of interest it can take from 30 minutes to a couple of hours to walk the halls of the Center.
– The Chicago Cultural Center is a standing landmark. Find out about exhibits and other Chicago events by visiting the information desk.
CONS:
– None – Visit the exhibits. There free and you may just discover a new artist you like.
Let's explore!
Tavi J